In 1997, the editorial staff of Deadly Pleasures decided that since one of the magazine's stated goals was to search out and report on the best works being published in the field of crime fiction each year, it would be a natural fit to present awards for excellence. Then came the dilemma of what to name the award. At the time all associated with the magazine were still reeling from the untimely death of Barry Gardner, who was arguably the best fan reviewer on the planet, so it was decided to name the award after him so as to keep his memory alive (not unlike what Bouchercon and its Anthony awards have done for writer/critic Anthony Boucher, who also suffered an untimely and early death). For a biography of Barry Gardner, click on his name above.
Some have asked me from time to time, what are submission guidelines for the Barry Award. It is pretty simple: get us a copy of the book or short story and hope one of us reviews it. Our staff doesn't even attempt to read everything. We try to keep our ears to the ground and read what people are talking about. And from time to time we find Barry Award nominees by our own idiosyncratic reading. In short, we don't have an organized reading program whereby all members of the nominating committee read the same books. We choose people on the committee who read widely and try to find consensus among them. It isn't perfect, but no system is.
For the years 2007 through 2009 The Barry Awards were co-sponsored with Mystery News, thus broadening the exposure of the Awards. Sadly Mystery News has ceased publication as of December, 2009. We at Deadly Pleasures appreciated their participation.
Subscribers and readers of Deadly Pleasures may vote by emailing their choices to george@deadlypleasures.com or by mailing them to P.O. Box 997, Bountiful, UT 84011.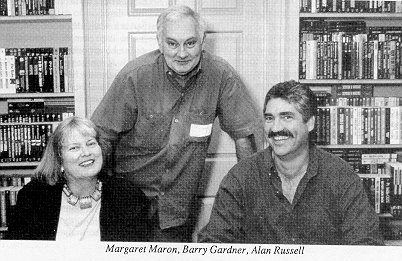 BARRY AWARD NOMINEES 2016
The winners of these awards will be presented at this year's Bouchercon in New Orleans during the Opening Ceremonies on September 15, 2016. The readers of Deadly Pleasures Mystery Magazine will determine the eventual winners.
Best Novel
C. J. Box, BADLANDS
John Connolly, A SONG OF SHADOWS
Owen Laukkanen, THE STOLEN ONES
Michael Robotham, LIFE OR DEATH
Jeff Siger, DEVIL OF DELPHI
Don Winslow, THE CARTEL

Best First Novel
John A. Connell, RUINS OF WAR
Glen Erik Hamilton, PAST CRIMES
Elsa Hart, JADE DRAGON MOUNTAIN
Paula Hawkins, THE GIRL ON THE TRAIN
Ausma Zehanat Khan, THE UNQUIET DEAD
Brian Panowich, BULL MOUNTAIN

Best Paperback Original

Kristi Belcamino, BLESSED ARE THOSE WHO WEEP
Lou Berney, THE LONG AND FARAWAY GONE
Max Allan Collins, QUARRY'S CHOICE
Sarah Hilary, NO OTHER DARKNESS
Ragnar Jonasson, SNOW BLIND
James W. Ziskin, STONE COLD DEAD
Best Thriller
Marc Cameron, BRUTE FORCE
Chris Holm, THE KILLING KIND
M. A. (Mike) Lawson, VIKING BAY
Stefanie Pintoff, HOSTAGE TAKER
Taylor Stevens, THE MASK
A. J. Tata, FOREIGN AND DOMESTIC
BARRY AWARD WINNERS 2015
Best Novel

NATCHEZ BURNING, Greg Iles – Winner
THE MARCO EFFECT, Jussi Adler-Olsen
THE REST IS SILENCE, James R. Benn
HOLLOW GIRL, Reed Farrel Coleman
PROVIDENCE RAG, Bruce DeSilva
STRANGE SHORES, Arnaldur Indridason
Best First Novel

INVISIBLE CITY, Julia Dahl – Winner
NIGHT HERON, Adam Brookes
ICE SHEAR, M. P. Cooley
DEAR DAUGHTER, Elizabeth Little
THE WEIGHT OF BLOOD, Laura McHugh
SHE'S LEAVING HOME, William Shaw
Best Paperback Original

THE LIFE WE BURY, Allen Eskens – Winner
THE TRUTH ABOUT THE HARRY QUEBERT AFFAIR, Joel Dicker
THE KILLER NEXT DOOR, Alex Marwood
PRESENT DARKNESS, Malla Nunn
THE BLACK HOUR, Lori Rader-Day
ELEVEN DAYS, Stav Sherez
Best Thriller

THOSE WHO WISH ME DEAD, Michael Koryta – Winner
SUSPICION, Joe Finder
THE WATER RAT OF WANCHAI, Ian Hamilton
AN OFFICER AND A SPY, Robert Harris
I AM PILGRIM, Terry Hayes
HOUSE RECKONING, Mike Lawson
BARRY AWARD WINNERS 2014
Best Novel
ORDINARY GRACE, William Kent Krueger-- Winner
A CONSPIRACY OF FAITH, Jussi Adler-Olsen
TAP ON THE WINDOW, Linwood Barclay
SANDRINE'S CASE, Thomas H. Cook
SUSPECT, Robert Crais
STANDING IN ANOTHER MAN'S GRAVE, Ian Rankin
Best First Novel
JAPANTOWN, Barry Lancet--Winner
BURIAL RITES, Hannah Kent
THE BOOKMAN'S TALE, Charlie Lovett
RAGE AGAINST THE DYING, Becky Masterman
COVER OF SNOW, Jenny Milchman
NORWEGIAN BY NIGHT, Derek B. Miller
Best PBO
I HEAR THE SIRENS IN THE STREET, Adrian McKinty-- Winner
JOE VICTIM, Paul Cleave
DISCIPLE OF LAS VEGAS, Ian Hamilton
THE RAGE, Gene Kerrigan
FEAR IN THE SUNLIGHT, Nicola Upson
FIXING TO DIE, Elaine Viets
Best Thriller
THE DOLL, Taylor Stevens -- Winner
DEAD LIONS, Mick Herron
GHOSTMAN, Roger Hobbs
RED SPARROW, Jason Matthews
THE SHANGHAI FACTOR, Charles McCarry
RATLINES, Stuart Neville
Another fine job done by our nominating committees comprised of Larry Gandle, Maggie Mason, Bev DeWeese, Ali Karim, Barbara Peters, Pat Frovarp, Gary Shulze, Mike Bursaw, Oline Cogdill, Kris Schorer, Beth Fedyn, George Easter and Steele Curry (on Thriller Committee).
BARRY AWARDS 2013
Best Novel
THE BLACK HOUSE by Peter May (Silver Oak -- Winner

GONE GIRL by Gillian Flynn (Crown)
TRUST YOUR EYES by Linwood Barclay (NAL)
DEFENDING JACOB by William Landay (Delacorte)
LIVE BY NIGHT, Dennis Lehane (Morrow)
DEAD SCARED by S.J. Bolton (Minotaur)
Best First Novel
A KILLING IN THE HILLS by Julia Keller (Minotaur)-- Winner

THE YARD by Alex Grecian (Putnam)
SACRIFICE FLY by Tim O'Mara (Minotaur)
THE DARK WINTER by David Mark (Blue Ridge Press)
BLACK FRIDAYS by Michael Sears (Putnam)
THE PROFESSIONALS by Owen Laukkanen (Putnam)
Best Paperback Original
MR. CHURCHILL'S SECRETARY by Susan Elia McNeal (Bantam) -- Winner

PAGO PAGO TANGO by John Enright (Thomas & Mercer)
BLESSED ARE THE DEAD by Malla Nunn (Washington Square)
THE OTHER WOMAN'S HOUSE by Sophie Hannah (Penguin)
BLOODLAND by Alan Glynn (Picador)
BENEATH THE ABBEY WALL by A.D. Scott (Atria)
Best Thriller
THE FALLEN ANGEL by Daniel Silva (Harper) -- Winner

THE LAST REFUGE by Ben Coes (St. Martin's)
THE RIGHT HAND by Derek Haas (Mulholland)
A FOREIGN COUNTRY by Charles Cumming (St. Martin's)
HOUSE BLOOD by Mike Lawson (Atlantic Monthly)
RED STAR BURNING by Brian Freemantle (Minotaur)
You will notice that there are fewer categories this year. We have eliminated two: The Best Short Story (lack of interest/votes by fans) and Best British (changing times, most good British writers are now published in the U.S. and it was a confusing award especially when an American or an Icelandic won). The awards ceremony got to be too long. Now it will be just right.
_________
BARRY AWARD WINNERS 2012
Best Novel

THE KEEPER OF LOST CAUSES (in U.K., MERCY), Jussi Adler-Olsen (Dutton) -- Winner

THE ACCIDENT, Linwood Barclay (Bantam)
HURT MACHINE, Reed Farrel Coleman (Tyrus)
IRON HOUSE, John Hart (Minotaur)
HELL IS EMPTY, Craig Johnson (Viking)
THE TROUBLED MAN, Henning Mankell (Knopf)
Best First Novel
THE INFORMATIONIST, Taylor Stevens (Crown)

LEARNING TO SWIM, Sara J. Henry (Crown)
THE DEVOTION OF SUSPECT X, Keigo Higashino (Minotaur)
THE BOY IN THE SUITCASE, Lene Kaaberbol and Agnette Friis (Soho Crime)
TURN OF MIND, Alice LaPlante (Atlantic Monthly)
BEFORE I GO TO SLEEP, S.J. Watson (Harper)
Best British (Published in the U.K. in 2011)
DEAD MAN'S GRIP, Peter James (Macmillan)

NOW YOU SEE ME, S.J. Bolton (Bantam Press)
HELL'S BELLS (in U.K., THE INFERNALS), John Connolly (Hodder & Stoughton)
BAD SIGNS, R. J. Ellory (Orion)
THE HOUSE AT SEA'S END, Elly Griffiths (Quercus)
OUTRAGE, Arnaldur Indridason (Harvill Secker)

Best Paperback Original
DEATH OF THE MANTIS, Stanley, Michael (Harper Perennial)

THE SILENCED, Brett Battles (Dell)
THE HANGMAN'S DAUGHTER, Oliver Pötzsch (Mariner Books)
A DOUBLE DEATH ON THE BLACK ISLE, A. D. Scott (Atria)
FUN AND GAMES, Duane Swierczynski (Mulholland)
TWO FOR SORROW, Nicola Upson (Harper Perennial)
Best Thriller
THE INFORMANT, Thomas Perry (Houghton Mifflin)

CARVER, Tom Cain (Bantam Press)
COUP D'ETAT, Ben Coes (St. Martin's)
SPYCATCHER (SPARTAN), Matthew Dunn (William Morrow)
BALLISTIC, Mark Greaney (Berkley Trade)
HOUSE DIVIDED, Mike Lawson (Atlantic Monthly)

Best Short Story (compiled by Marv Lachman)
Jeffrey Cohen, "The Gun Also Rises" (AHMM January-February)

Doug Allyn, "Thicker Than Blood" (AHMM September)
Mike Cooper, "Whiz Bang" (EQMM September-October)
Trina Corey, "Facts Exhibiting Wantonness" ( EQMM November)
James Powell, "Last Laugh in Floogle Park" (EQMM July)
Eric Rutter, "Purge" (AHMM December)

BARRY AWARD WINNERS 2011
Best Novel
THE LOCK ARTIST, Steve Hamilton (Minotaur)
NOWHERE TO RUN, C. J. Box (Putnam)
CROOKED LETTER, CROOKED LETTER, Tom Franklin (Morrow)
MOONLIGHT MILE, Dennis Lehane (Morrow)
BURY YOUR DEAD, Louise Penny (Minotaur)
SAVAGES, Don Winslow (Simon & Schuster)
Best First Novel
THE POACHER'S SON, Paul Doiron (Minotaur)
GUTSHOT STRAIGHT, Lou Berney (Morrow)
ROGUE ISLAND, Bruce DeSilva (Forge)
SHERLOCKIAN, Graham Moore (Twelve)
THE HOLY THIEF, William Ryan (Minotaur)
ONCE A SPY, Keith Thomson (Doubleday)

Best British Novel
THE WOODCUTTER, Reginald Hill (HarperCollins)
STARTED EARLY, TOOK MY DOG, Kate Atkinson (Doubleday)
BLOOD HARVEST, S. J. Bolton (Bantam Press)
NIGHT WHISPERERS, John Connolly (Hodder & Stoughton)
THREE SECONDS, Roslund & Hellstrom (Quercus)
FOURTH DAY, Zoe Sharp (Allison & Busby)

Best Paperback Original
FEVER AT THE BONE, Val McDermid (Harper)
THE HANGING TREE, Bryan Gruley (Touchstone)
THE DEAD LIE DOWN, Sophie Hannah (Penguin)
EGGSECUTIVE ORDERS, Julie Hyzy (Berkley)
THE RHETORIC OF DEATH, Judith Rock (Berkley)
A SMALL DEATH IN THE GREAT GLEN, A.D. Scott (Atria)
Best Thriller
13 HOURS, Deon Meyer (Grove Atlantic)

AMERICAN ASSASSIN, Vince Flynn (Atria)
THE BRICKLAYER, Noah Boyd (Morrow)
BOLT ACTION, Charles Charters (Hodder U.K.)
ON TARGET, Mark Greaney (Jove)
THE REMBRANDT AFFAIR, Daniel Silva (Putnam)
Best Short Story
Loren D. Estleman, "The List" (EQMM May 2010)
Mitch Alderman, "Requiem for Antlers" (AHMM Jan.-Feb. 2010)
Robert Barnard, "Family Values" (EQMM Feb. 2010)
Caroline Benton, "The Body in the Dunes (EQMM Jan. 2010)
Terence Faherty, "The Seven Sorrows" (EQMM Mar.-Apr. 2010)
Ellen Larson, "When the Apricots Bloom" (AHMM July-Aug. 2010)
BARRY AWARD WINNERS 2010
BEST NOVEL
John Hart, THE LAST CHILD, Minotaur -- Winner
John Connolly, THE GATES, Atria
David Ellis, THE HIDDEN MAN, Putnam
Joe Gores, SPADE & ARCHER, Knopf
Marcia Muller, LOCKED IN, Grand Central
S.J. Rozan, SHANGHAI MOON, Minotaur
BEST FIRST NOVEL

Alan Bradley, THE SWEETNESS AT THE BOTTOM OF THE PIE, Delacorte -- Winner
Josh Bazell, BEAT THE REAPER, Little, Brown
Rebecca Cantrell, A TRACE OF SMOKE, Forge
Sophie Littlefield, A BAD DAY FOR SORRY, Minotaur
Attica Locke, BLACK WATER RISING, Harper
Stuart Neville, THE GHOSTS OF BELFAST (THE TWELVE), Soho Crime
BEST BRITISH NOVEL
Philip Kerr, IF THE DEAD NOT RISE, Quercus -- Winner

S. J. Bolton, AWAKENING, Bantam Press
John Connolly, THE LOVERS, HodderStoughton
Reginald Hill, MIDNIGHT FUGUE, HarperCollins
Denise Mina, STILL MIDNIGHT, Orion
Robert Wilson, IGNORANCE OF BLOOD, HarperCollins
BEST PAPERBACK ORIGINAL
Bryan Gruley, STARVATION LAKE, Touchstone -- Winner

Megan Abbott, BURY ME DEEP, Simon & Schuster
Max Allan Collins, QUARRY IN THE MIDDLE, HardCase Crime
Heather Gutenkauf, THE WEIGHT OF SILENCE, Mira
Frank Tallis, FATAL LIES, Random House Mortalis
L. C. Tyler, THE HERRING-SELLER'S APPRENTICE, Felony & Mayhem
BEST THRILLER
Jamie Freveletti, RUNNING FROM THE DEVIL, Morrow--Winner

Tom Cain, NO SURVIVORS (THE SURVIVOR), Viking
Mark Greaney, THE GRAY MAN, Jove
Derek Haas, COLUMBUS: a Silver Bear Thriller, Pegasus
Mike Lawson, HOUSE SECRETS, Atlantic Monthly
Greg Rucka, WALKING DEAD, Bantam
MYSTERY/CRIME NOVEL OF THE DECADE
Stieg Larsson, THE GIRL WITH THE DRAGON TATTOO, Knopf -- Winner

Ken Bruen, THE GUARDS, St. Martin's Minotaur
Michael Connelly, THE LINCOLN LAWYER, Little, Brown
Dennis Lehane, MYSTIC RIVER, Morrow
Louise Penny, STILL LIFE, St. Martin's Minotaur
Carlos Ruiz Zafon, THE SHADOW OF THE WIND, Penguin Press
BEST SHORT STORY
Brendan DuBois, "The High House Writer" (AHMM July-August 2009) -- Winner
Barbara Callahan, "My Mother's Keeper" (EQ
MM June 2009)
David Dean, "Erin's Journal" (EQMM December 2009)
John H. Dirckx, "Real Men Die" (AHMM September 2009)
Melodie Johnson Howe, "A Hollywood Ending" (EQMM July 2009)
Morley Swingle, "Hard Blows" (THE PROSECUTION RESTS )
THE 2009 BARRY AWARDS
The winners were announced at the 2009 Bouchercon in Indianapolis, Indiana. Sponsored by Mystery News and Deadly Pleasures Mystery Magazine
BEST NOVEL
THE DRAINING LAKE by Arnaldur Indridason – WINNER

TRIGGER CITY by Sean Chercover
ENVY THE NIGHT by Michael Koryta
RED KNIFE by William Kent Krueger
THE CRUELEST MONTH by Louise Penny
DAWN PATROL by Don Winslow
BEST FIRST
CHILD 44 by Tom Rob Smith – WINNER

THE KIND ONE by Tom Epperson
STALKING SUSAN by Julie Kramer
CITY OF THE SUN by David Levien
A CARRION DEATH by Michael Stanley
SWEEPING UP GLASS by Carolyn D. Wall
BEST BRITISH
THE GIRL WITH THE DRAGON TATTOO by Stieg Larsson – WINNER

A SIMPLE ACT OF VIOLENCE by R.J. Ellory
RITUAL by Mo Hayder
SHATTER by Michael Robotham
BLEEDING HEART SQUARE by Andrew Taylor
BRUNO, CHIEF OF POLICE by Martin Walker
BEST PAPERBACK ORIGINAL
STATE OF THE ONION by Julie Hyzy – WINNER

THE FIRST QUARRY by Max Allan Collins
MONEY SHOT by Christa Faust
THE BLACK PATH by Asa Larsson
SEVERANCE PACKAGE by Duane Swierczynski
ECHOES FROM THE DEAD by Johan Theorin
BEST THRILLER
THE DECEIVED by Brett Battles – WINNER

COLLISION by Jeff Abbott
THE SURVIVOR (NO SURVIVORS in U.S.) by Tom Cain
FINDER by Colin Harrison
NIGHT OF THUNDER by Stephen Hunter
GOOD PEOPLE by Marcus Sakey
BEST SHORT STORY
"The Drought" by James O. Born (The Blue Religion) – WINNER

"The Fallen" by Jan Burke (August EQMM)
"A Trace of a Trace" by Brendan DuBois (At the Scene of the Crime)
"A Killing in Midtown" by G. Miki Hayden (January/February AHMM)
"Proof of Love" by Mick Herron (September/October EQMM)
"The Problem of the Secret Patient" by Edward D. Hoch (May EQMM)

THE 2008 BARRY AWARDS
The winners were announced October 9, 2008 at the opening ceremonies of Bouchercon in Baltimore, Maryland. Sponsored by Mystery News and Deadly Pleasures Mystery Magazine
BEST NOVEL (Published in the U.S. in 2007)
WHAT THE DEAD KNOW, Laura Lippman (Morrow)
SOUL PATCH, Reed Farrel Coleman (Bleak House)
THE UNQUIET, John Connolly (Atria)
DOWN RIVER, John Hart (St Martin's Minotaur)
DIRTY MARTINI, J.A. Konrath (Hyperion)
RED CAT, Peter Spiegelman (Knopf)

BEST FIRST NOVEL (Published in the U.S. in 2007)
IN THE WOODS, Tana French (Viking)
MISSING WITNESS, Gordon Campbell (Morrow)
BIG CITY, BAD BLOOD, Sean Chercover (Morrow)
THE SPELLMAN FILES, Lisa Lutz (Simon & Schuster)
THE COLLABORATOR OF BETHLEHEM, Matt Beynon Rees (Soho Press)
THE BLADE ITSELF, Marcus Sakey (St. Martin's Minotaur)
BEST BRITISH CRIME NOVEL
(published in the U.K. in 2007,
not necessarily written by a British writer nor set in the U.K)
DAMNATION FALLS, Edward Wright (Orion)
A QUIET BELIEF IN ANGELS, R.J. Ellory (Orion)
PIG ISLAND, Mo Hayder (Bantam Press)
ONE UNDER, Graham Hurley (Orion)
THE DEATH LIST, Paul Johnston (Mira)
THE 50/50 KILLER, Steve Mosby (Orion)

BEST PAPERBACK ORIGINAL
QUEENPIN, Megan Abbott (Simon & Schuster)

BLACK WIDOW AGENCY, Felicia Donovan (Midnight Ink)
CHOKE POINT, Jay MacLarty (Pocket)
THE MARK, Jason Pinter (Mira)
WASH THIS BLOOD CLEAN FROM MY HAND, Fred Vargas (Penguin)
WHO IS CONRAD HIRST?, Kevin Wignall (Simon & Schuster)

BEST THRILLER
THE WATCHMAN, Robert Crais (Simon & Schuster)
NO TIME FOR GOODBYE, Linwood Barclay (Bantam)
THE CLEANER, Brett Battles (Delacorte)
VOLK'S GAME, Brent Ghelfi (Henry Holt)
SILENCE, Thomas Perry (Harcourt)
MIDNIGHT RAMBLER, Jim Swain (Ballantine)
BEST SHORT STORY
Edward D. Hoch, "The Problem of the Summer Snowman" (EQMM November 2007)
Doug Allyn, "Dead As a Dog" (EQMM July 2007)
Dale C. Andrews and Kurt Sercu, "The Book Case" (EQMM May 2007)
Jon L. Breen, "The Missing Elevator Puzzle" (EQMM February 2007)
Jeffrey Deaver, "Bump" (DEAD MAN'S HAND)
Gillian Roberts, "The Old Wife's Tale" (EQMM March-April 2007)
Neil Schofield, "Murder: A User's Guibe" (AHMM July-August 2007). The word "Guibe" is not a typo.
*******************
THE 2007 BARRY AWARD WINNERS
BEST NOVEL
THE NIGHT GARDENER by George Pelecanos -- Winner
WHITE SHADOW by Ace Atkins
OH DANNY BOY by Rhys Bowen
THE LAST ASSASSIN by Barry Eisler
THE PRISONER OF GUANTANAMO by Dan Fesperman
CITY OF SHADOWS by Ariana Franklin

BEST FIRST NOVEL
STILL LIFE by Louise Penny -- Winner
THE FAITHFUL SPY by Alex Berenson
SHARP OBJECTS by Gillian Flynn
THE BERLIN CONSPIRACY by Tom Gabbay
THE KING OF LIES by John Hart
A FIELD OF DARKNESS by Cornelia Read
BEST BRITISH NOVEL
PRIEST by Ken Bruen -- Winner

DYING LIGHT by Stuart MacBride
SOVEREIGN by C.J. Sansom
THE CASE OF THE MISSING BOOKS by Ian Sansom
MR. CLARINET by Nick Stone
RED SKY LAMENT by Edward Wright
BEST THRILLER
THE MESSENGER by Daniel Silva -- Winner
KILLER INSTINCT by Joe Finder
THE FOREIGN CORRESPONDENT by Alan Furst
RELENTLESS by Simon Kernick
COLD KILL by Stephen Leather
KILL ME by Stephen White
BEST PAPERBACK ORIGINAL
THE CLEANUP by Sean Doolittle -- Winner
BUST by Ken Bruen and Jason Starr
THE LAST QUARRY by Max Allan Collins
LIVE WIRE by Jay MacLarty
DEADMAN'S POKER by Jim Swain
CROOKED by Brian Wiprud

BEST SHORT STORY
"The Right Call" by Brendan DuBois
(EQMM Sept/Oct, 2006) -- Winner
"Cain was Innocent" by Simon Brett (Thou Shalt Not Kill, published by Carroll & Graf)
"Shaping the Ends" by Judith Cutler (EQMM May, 2006)
"A Man of Taste" by Kate Ellis (EQMM Mar/Apr, 2006)
"The Flower Girl" by Paul Halter (The Night of the Wolf, published by Wildside Press)
"A Case for Inspector Ghote" by June Thomson (The Verdict of Us All, published by Crippen & Landru)
***************
2006 Barry Awards Winners
Best Novel
RED LEAVES Thomas H. Cook -- Winner
BLOODLINES, Jan Burke
MERCY FALLS William Kent Krueger
SUDDEN DEATH David Rosenfelt
MR. LUCKY James Swain
THE POWER OF THE DOG Don Winslow
Best First Novel
COLD GRANITE Stuart McBride -- Winner
DIE A LITTLE Megan Abbott
IMMORAL Brian Freeman
BABY GAME Randall Hicks
DARK HARBOR David Hosp
Best British Novel
THE FIELD OF BLOOD Denise Mina -- Winner
BLOOD-DIMMED TIDE Rennie Airth
LIFELESS Mark Billingham
SILENCE OF THE GRAVE Arnaldur Indridason
A GOOD DAY TO DIE Simon Kernick
LOST Michael Robotham
Best Thriller
COMPANY MAN Joseph Finder -- Winner
CONSENT TO KILL Vince Flynn
THE INSIDE RING Michael Lawson
SEVEN DEADLY WONDERS Matthew Reilly
MAP OF BONES James Rollins
PRIVATE WARS Greg Rucka
Best Paperback Novel
THE JAMES DEANS Reed Farrel Coleman -- Winner
SIX BAD THINGS Charlie Huston
NIGHT'S CHILD Maureen Jennings
NOW YOU SEE ME Rochelle Krich
THE DEAD DON'T GET OUT MUCH Mary Jane Maffini
INSIDE OUT John Ramsey Miller
Best Short Story
Nancy Pickard- "There Is No Crime on Easter Island" (EQMM Sept.-Oct. 2005) -- Winner
Steve Hockensmith- "The Big Road" (AHMM May 2005)
Peter Lovesey- "Needle Match" (MURDER IS MY RACKET)
Joan Richter- "Love and Death in Africa" (EQMM January 2005)
Tom Savage- "The Method in Her Madness" (AHMM June 2005)
2005 Barry Award Winners
Best Novel Barry Award
THE ENEMY, Lee Child -- WINNER
ALONE AT NIGHT, K. J. Erickson
DARKLY, DREAMING DEXTER, Jeff Lindsay
REMEMBERING SARAH, Chris Mooney
LITTLE SCARLET, Walter Mosley
HARD REVOLUTION, George Pelecanos
Best First Novel Barry Award
THE SHADOW OF THE WIND, Carlos Ruiz Zafon -- WINNER
RELATIVE DANGER, Charles Benoit
WALKING MONEY, James O. Born
THE CORONER'S LUNCH, Colin Cotterill
SKINNY DIPPING, Claire Matturro
SOME DANGER INVOLVED, Will Thomas
Best British Crime Novel Barry Award
FLESH & BLOOD, John Harvey -- WINNER
THE BURNING GIRL, Mark Billingham
THE DRAMATIST, Ken Bruen
TOKYO (U.S. title: THE DEVIL OF NANKING), Mo Hayder
THE CRIME TRADE, Simon Kernick
FIRST DROP, Zoë Sharp
Best Paperback Original Barry Award
TAGGED FOR MURDER, Elaine Flinn -- WINNER
THE LIBRARIAN, Larry Beinhart
INTO THE WEB, Thomas H. Cook
LAST SEEN IN ABERDEEN, M.G. Kincaid
THE CONFESSION, Domenic Stansberry
TWISTED CITY, Jason Starr
Best Thriller Barry Award
RAIN STORM by Barry Eisler -- WINNER
SCARECROW by Matthew Reilly
BAGMAN by Jay MacLarty
WHIRLWIND by Joseph Garber
A DEATH IN VIENNA by Daniel Silva
PARANOIA by Joseph Finder
Best Short Story Barry Award
Edward D. Hoch "The War in Wonderland" (GREEN FOR DANGER) -- WINNER
Catherine Aird "Cold Comfort" (CHAPTER AND HEARSE AND OTHER MYSTERIES)
Melodie Johnson Howe "Facing Up" (EQMM July,2004)
John Mortimer "Rumpole and the Christmas Break" (The Strand Magazine No. XIV)
Amy Myers "Murder, the Missing Heir and the Boiled Egg" (CRIMINAL APPETITES)
Neil Schofield "Ledgers" (EQMM July, 2004)
2004 BARRY AWARD WINNERS
2004
BEST NOVEL
EVERY SECRET THING by Laura Lippman -- Winner
THE GUARDS by Ken Bruen
THE SMALL BOAT OF GREAT SORROWS by Dan Fesperman
KEEPING WATCH by Laurie R. King
SHUTTER ISLAND by Dennis Lehane
FOUNTAIN FILLED WITH BLOOD by Julia Spencer- Fleming
BEST FIRST MYSTERY NOVEL
MONKEEWRENCH by P. J. Tracy -- Winner
MISSION FLATS by Bill Landay
BRIDGE OF SIGHS by Olen Steinhauer
THE BARBED-WIRE KISS by Wallace Stroby
MAISIE DOBBS by Jacqueline Winspear
CLEA'S MOON by Edward Wright
BEST BRITISH CRIME NOVEL
THE DISTANT ECHO by Val McDermid -- Winner
LAZYBONES by Mark Billingham
FULL DARK HOUSE by Christopher Fowler
THE MURDER EXCHANGE by Simon Kernick
THE HOUSE SITTER by Peter Lovese
THE AMERICAN BOY (U.S. title: AN UNPAR- DONABLE CRIME) by Andrew Taylor
BEST PAPERBACK ORIGINAL
TOUGH LUCK by Jason Starr -- Winner
DEALING IN MURDER by Elaine Flinn
WISDOM OF THE BONES by Christopher Hyde
THE COURIER by Jay MacLarty (Pocket Star, $6.99)
THE SHADOW OF VENUS by Judith Van Gieson
MURDER BETWEEN THE COVERS by Elaine Viets
BEST MYSTERY SHORT STORY
Robert Barnard- "Rogues' Gallery" (EQMM March 2003) -- Winner
Doug Allyn- "The Blind Pig" (EQMM May 2003)
Brendan DuBois- "Always Another War" (AHMM July-August 2003)
Clark Howard- "The Mask of Peter" (EQMM April 2003)
Donald Olson- "Rogue's Run" (EQMM April 2003)
Prior Year's Winners
1997 Barry Awards
Best Novel
BLOODHOUNDS, Peter Lovesey
HEARTS AND BONES by Margaret Lawrence
DANCE OF THE DEAD by Thomas Perry
THE WOOD BEYOND by Reginald Hill
SPEAK NO EVIL by Rochelle Krich
THE CHATHAM SCHOOL AFFAIR by Thomas H. Cook
Best First Novel
TEST OF WILLS, Charles Todd
A BROTHER'S BLOOD, Michael C. White
A KILLING IN QUAIL COUNTY, Jameson Cole
LIE DOWN WITH DOGS, Jan Gleiter
WHAT THE DEAF MUTE HEARD by G.D. Gearino
FATAL GIFT by H. Michael Frase
Best Paperback Original
WALKING RAIN, Susan Wade
THE GRASS WIDOW, Teri Holbrook
FADE AWAY, Harlan Coben
Best Non-Fiction
DETECTING WOMEN 2, Willetta L. Heising
These awards were made without any fanfare or much publicity being generated.
The next year, with more time to prepare, we printed a ballot of nominated titles and physical awards were presented to the winners at Bouchercon. And then all of a sudden people started taking notice of the Barry Awards.
1998 Barry Awards
Best Novel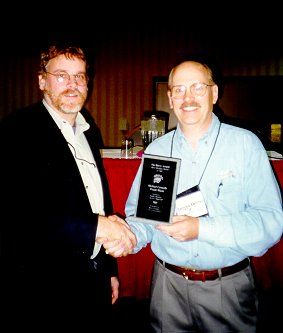 TRUNK MUSIC, Michael Connelly - Winner
DREAMING OF THE BONES, Deborah Crombie
HOCUS, Jan Burke
A WASTELAND OF STRANGERS, Bill Pronzini
THE LIFE AND DEATH OF BOBBY Z, Don Winslow
NO COLDER PLACE, S.J. Rozan
CIMARRON ROSE, James Lee Burke
Best First Novel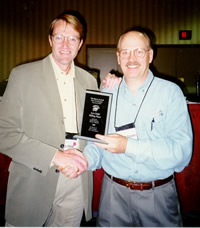 KILLING FLOOR, Lee Child - Winner
NO HUMAN INVOLVED, Barbara Seranella
EXCEPT THE DYING, Maureen Jennings
FREE REIGN, Rosemary Aubert
FLOWER NET, Lisa See
LOS ALAMOS, Joseph Kanon
Best Paperback Original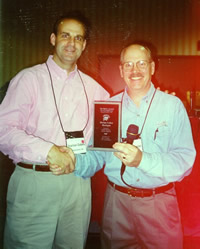 BACKSPIN, Harlan Coben - Winner
BIG RED TEQUILA, Rick Riordan
THE SALARYMAN'S WIFE, Sujata Massey
DEAD BODY LANGUAGE, Penny Warner
1999 Barry Awards
Best Novel (tie)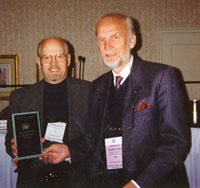 ON BEULAH HEIGHT, Reginald Hill - Winner
GONE, BABY GONE, Dennis Lehane - Winner
EVAN HELP US, Rhys Bowen
BLOOD WORK, Michael Connelly
THE COFFIN DANCER, Jeffery Deaver
JUDAS CHILD, Carol O'Connell
THE HANGING GARDEN, Ian Rankin
ALL THE DEAD LIE DOWN, Mary Willis Walker
Best First Novel
IRON LAKE, William Kent Krueger - Winner
THE CONTRARY BLUES, John Billheimer
A COLD DAY IN PARADISE, Steve Hamilton
THE DOCTOR DIGS A GRAVE, Robin Hathaway
TIDEWATER BLOOD, William Hoffman
A LIKENESS IN STONE, J. Wallis Martin
BILLY DEAD, Lisa Reardon
A CRIMINAL APPEAL, D.R. Schanker
2000 Barry Awards
Best Novel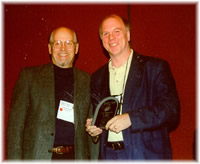 IN A DRY SEASON, Peter Robinson
Angels Flight, Michael Connelly
L.A. Requiem, Robert Crais
High Five, Janet Evanovich
Hart's War By John Katzenbach
Prayers For Rain, Dennis Lehane
Best First Novel
MURDER WITH PEACOCKS, Donna Andrews
The Immortal Game, Mark Coggins
Lie In The Dark, Dan Fesperman
White Sky, Black Ice, Stan Jones
Every Trace, Greg Main
Best British Crime Novel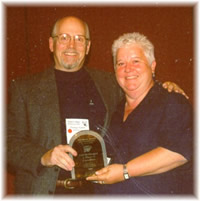 A PLACE OF EXECUTION, Val Mcdermid
River Of Darkness, Rennie Airth
Every Dead Thing, John Connolly
Rough Justice, Colin Falconer
The Chalon Heads, Barry Maitland
Best Paperback Original (tie)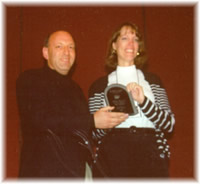 EVERY MOVE SHE MAKES, Robin Burcell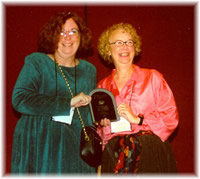 AN ANTIDOTE FOR AVARICE, Caroline Roe
Them Bones, Carolyn Haines
The Hunted, Jerry Kennealy
The Last Song Dogs, Sinclair Browning
2001 Barry Award Winners
BEST NOVEL
DEEP SOUTH, Nevada Barr
RUNNING BLIND, Lee Child
PLACES IN THE DARK, Thomas H. Cook
CROSS DRESSING by Bill Fitzhugh
WINTER OF THE WOLF MOON, Steven Hamilton
UNWANTED COMPANY, Barbara Seranella
BEST FIRST NOVEL
CONSPIRACY OF PAPER, David Liss
IN HER DEFENSE, Stephen Horn
THE ICE HARVEST, Scott Phillips
STREET LEVEL, Bob Truluck
DEATH OF A RED HEROINE, Qiu Xiaolong
BEST BRITISH CRIME NOVEL
BLACK DOG, Stephen Booth
DARK HOLLOW, John Connolly
THE BEACH ROAD, Sarah Diamond
THE CERTAINTY OF DOING EVIL, Colin Falconer
THE REAPER, Peter Lovesey
BEST PAPERBACK ORIGINAL
THE KIDNAPPING OF ROSIE DAWN, Eric Wright
DIVE DEEP AND DEADLY, Glynn Marsh Alam
DEATH DANCES TO A REGGAE BEAT, Kate Grilley
LITTLE MEXICO, Cathie John
DISTEMPER, Beth Saulnier
2002 Barry Award Winners
BEST NOVEL
MYSTIC RIVER, Dennis Lehane
TELL NO ONE, Harlan Coben
DARKNESS MORE THAN NIGHT, Michael Connelly
PURGATORY RIDGE, William Kent Krueger
SILENT JOE, T. Jefferson Parker
RIGHT AS RAIN, George Pelecanos
BAD NEWS, Donald E. Westlake
BEST FIRST NOVEL
OPEN SEASON, C. J. Box
THIRD PERSON SINGULAR, K.J. Erickson
CHASING THE DEVIL'S TAIL, David Fulmer
PERHAPS SHE'LL DIE, M.K. Preston
BLINDSIGHTED, Karen Slaughter
BUBBLES UNBOUND, Sarah Strohmeyer
BEST BRITISH CRIME NOVEL
DANCING WITH VIRGINS, Stephen Booth
BLOOD JUNCTION, Caroline Carver
THE KILLING KIND, John Connolly
DIALOGUES OF THE DEAD, Reginald Hill
DEATH IN HOLY ORDERS, P.D. James
KILLING THE SHADOWS, Val McDermid
THE FALLS, Ian Rankin
BEST PAPERBACK ORIGINAL
KILLING GIFTS, Deborah Woodworth
RODE HARD, PUT AWAY DEAD, Sinclair Browning
DEATH IS A CABARET, Deborah Morgan
THE FOURTH WALL, Beth Saulnier
STRAW MEN, Martin J. Smith
2003 Barry Awards
Best Novel
Michael Connelly, CITY OF BONES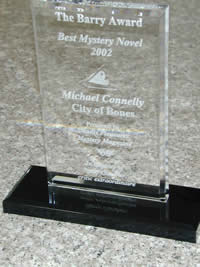 Lee Child, WITHOUT FAIL
Tim Cockey, THE HEARSE CASE SCENARIO
Steve Hamilton, NORTH OF NOWHERE
George Pelecanos, HELL TO PAY
S. J. Rozan, WINTER AND NIGHT
Best First Novel
Julia Spencer-Fleming, IN THE BLEAK MIDWINTER
David Corbett, THE DEVIL'S REDHEAD
Pip Granger, NOT ALL TARTS ARE APPLE
Jonathon King, THE BLUE EDGE OF MIDNIGHT
Eddie Muller, THE DISTANCE
Ben Rehder, BUCK FEVER
Best British Novel
Connolly, John, THE WHITE ROAD
Mark Billingham, SCAREDY CAT
Tom Bradby, THE MASTER OF RAIN
Simon Kernick, THE BUSINESS OF DYING
Peter Lovesey, DIAMOND DUST
Ed O'Connor, THE YEARE'S MIDNIGHT
Best Paperback Original
Danielle Girard, COLD SILENCE
Jeff Abbott, BLACK JACK POINT
Robin Burcell, FATAL TRUTH
D. Daniel Judson, THE BONE ORCHARD
Anna Salter, PRISON BLUES
Brian Wiprud, PIPSQUEAK